---
Banner when there are Guest Presenters with missing updates
When you have Guest Presenters invited to the meeting, and make changes to the Agenda that affects the timing and information in the specific calendar invite, we now remind you to update the Guest Presenters with these changes.
---
Better reflection of updates to the meeting invitation
In cases where the original meeting event gets changed or update, or users gets added and removed, we improved how quickly Decisions updates and displays the latest information. No longer a mismatch between new invitees and attendees list.
---
Mobile App - Annotate Meeting Book in app
You can now annotate the Meeting Book directly in the Meetings by Decisions app, no longer do you need to open the file in OneDrive or a 3rd party PDF app. The annotation works both for internal users to the organization and external guest members and attendees.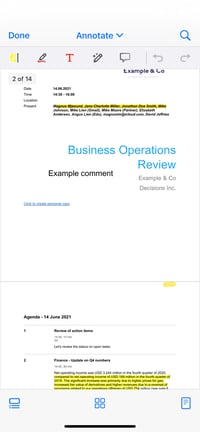 ---
OneNote decisions sync improvements
When creating new decisions or moving proposed decisions to final when the OneNote Minutes have already been created, these will show up in the decisions table as soon as you click Sync Tasks and Decisions
---
Mobile App - Comment on Agenda items
Meeting Attendees using the mobile app can now comment on Agenda items directly in the mobile view.