---
CTRL + click to open agenda in new tab
For the ones of you that are working with multiple meeting agendas simultaneously, we have added a shortcut to open agendas in a new tab in your browser. By pressing CTRL (or CMD on Mac) while clicking on the View Agenda button or a meeting in the Meeting List, the Agenda will open up in a new tab in your preferred browser.
Places:
Meetings in the Meeting List
View Agenda button in Meeting List
Meetings in the Recurring Meeting navigator
---
Standing Agenda - Additional use cases supported
Support for storing Standing Agenda in OneDrive
Ability to delete a Standing Agenda on the series level
Support for suggested topics and enable adding to Standing Agenda or occurrence
Support for OneNote Minutes
Support for "Manage Access" at initial publication
Support for Time Tracker
---
Meeting actions - Request topics
Now you can ask your team or the attendees of meeting to contribute with suggesting topics. As an organizer you send a message in Teams or by email to one or all of the attendees, asking for suggested topics

---
Support for adding link from Sharepoint/OneDrive in Teams
Finally we are able to support browsing SharePoint or your OneDrive from within Teams. No longer requiring you to open the agenda in web to easily access your files across.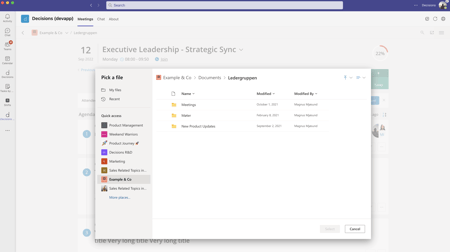 ---
Meeting List - Default filter & Meeting event search
We have updated the default filter and logic for the meeting shown in the Meeting List. The Meeting List is when you are using the Decisions app in the sidebar of Teams, or Decisions in the browser.
The Meeting List will only show relevant meetings that are ongoing or upcoming, and not events or appointments with only yourself or where you are OOO (Away, Working Elsewhere, Show as Free). The Meeting List shows meetings for next 7 days by default, and also includes ANY meeting with agenda.
In addition, there is a new field to search for meetings but meeting title, showing results chronologically for the upcoming year.