Use the Decisions Meeting Documents Manager add-in for taking meeting minutes more efficiently.
NOTE: Only "Owners" within the Team or users identified as agenda Co-Authors are able to create the meeting minutes. To learn how to assign Co-Authors, see Collaborate on Creating Meeting Agenda.
Click the "Minutes" tile in the meeting agenda and then select "Word Template"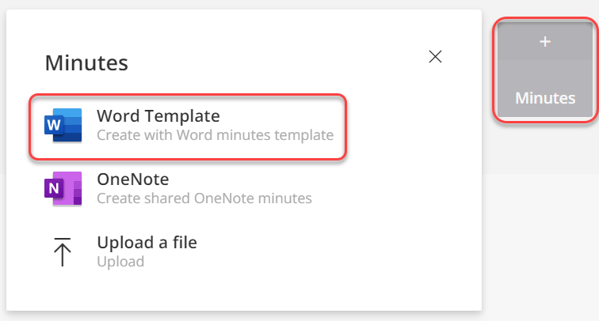 NOTE: A dialog box might appear asking if you want to use Word online or desktop. You must select "desktop" to enable the Decisions Meeting Documents Manager.
Name the document and click "save." Once you click save, Microsoft Word will open.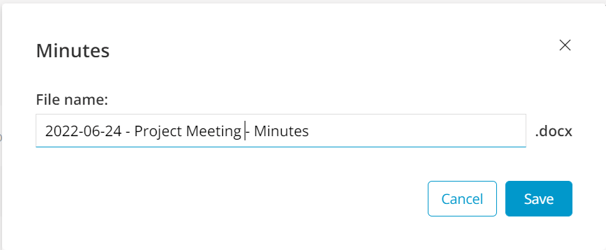 Once Word opens, select the "Meeting Documents Manager" from the right side of the toolbar.


Details from the agenda, including the agenda items, date, time and attendees automatically sync within the meeting minutes.
You can choose additional meeting information to include in your meeting minutes and you can mark any absent meeting attendees listed by selecting the checkbox next to each item in the Meeting Document Manager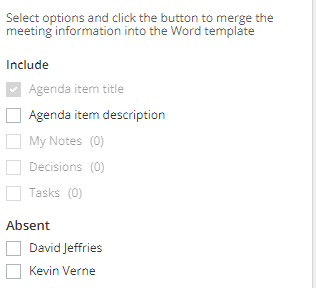 Once you have selected the information you want in the document, select "Merge" on the bottom right side of the Meeting Document Manager
When the meeting minutes are finished, y

ou have the option to share the meeting minutes with other reviewers before distributing a final version to the broader group.

Once the meeting minutes have been reviewed and/or finalized, you can save the document as a PDF and share it with any meeting attendees or other relevant parties.



The minutes will not be available to the group before the minutes are finalized.
More Features
Sync tasks and decisions: Decisions smart language technology will recognize these actions within the meeting minutes and give you the option to sync them directly to Microsoft Planner. Learn more