Guest Presenters - from outside the team or organization altogether - can be invited to specific Agenda items.
Learn how to add Guests to the full agenda - Guest Attendees
---
Assign Guest Presenter
In an Agenda, for a specific topic, click the presenter icon
Search for the guest presenter by name or email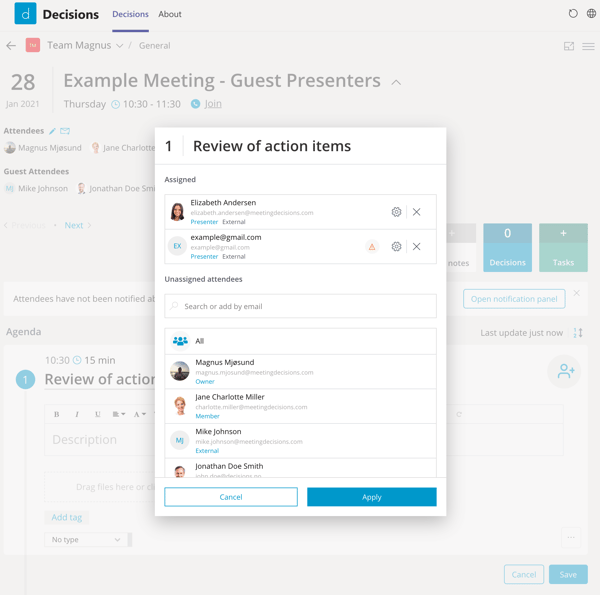 Note: People external to the team/group (not members) will be marked with the tag "External". People who are outside of your organization's directory will be marked with red triangle as well, learn more about External Guests (outside you org).
---
Notify Guest Presenter
Open Notify by clicking Open notification panel banner, or Notify attendees from the menu, or the blue email icon in the participant list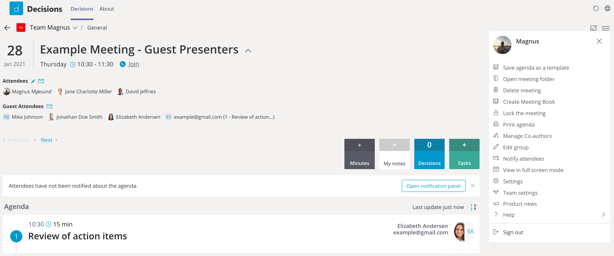 Select the Guest Presenters tab
Select the Agenda topics which you would like to notify the Guest Presenters on


You can choose to add a

Message

, and include the

Teams Meeting link

in the email that will be sent.

Click Notify

Guest Presenters will then receive an email with a calendar invitation to their specific Agenda item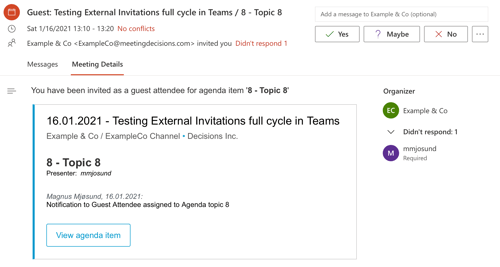 Note: It is important to allocate time to each Agenda item, so the Guest Presenter knows when to join the meeting, and so they are correctly updated when there are changes to the Agenda
---
Notifying Guest Presenters about changes
If you make changes to the Agenda, for example the order of Agenda topics or the time allocated for an Agenda item, you can choose to send a notification for each Agenda item to Guest Presenters, or you can click Send Email in the notification toast to automatically notify and update their calendar invite.

---
Where are calendar invitations to Guest Presenters sent from?
Emails and notifications being sent to the Guest Presenters will be sent from the group email for the current Team/ Group. You can go to the group calendar for that Team/Group to see the calendar events.
For the agenda you want to see the group calendar for
Click on the menu icon
Click Edit group
Go to the group calendar and find the date/time of the meeting