If you have custom agenda, minutes, meeting book, or agenda-print templates, they can be deployed globally to all teams/groups
Create a new Public - Office 365 group
Note: The group needs to be Public. Depending on your organizations O365 policies, you might need to ask your IT Admin for help to create this group.
Call it "Decisions Global Templates" (or something similar)
Search for the group "Decisions Global Templates"

Click on the Group Name - "Decisions Global Templates"
Click on "Click Here to open config folder"

The Sharepoint folder will now open

Copy the templates you want to be globally available into this folder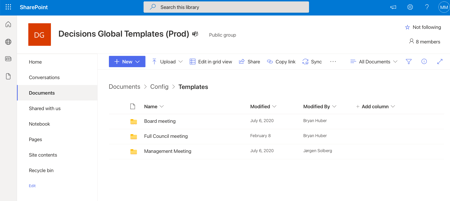 The Decisions Customer Success team will enable the use of global templates, and will let you know once the global template has been activated and ready to use.