---
Time Tracker - Alert
The Time Tracker Alert ensures presenters and attendees stay on time and on track by letting them know when one minute is remaining on an agenda item so they can wrap up their current topic. Enable it from the Decisions in-meeting side panel app.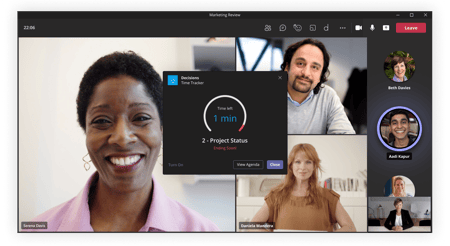 ---
Recurring meetings – automatically select team/group
When you create an agenda for a meeting in a series (recurring meeting), Decisions will now automatically select the previous team/channel used in that series. This means that you will only need to select the team/channel for the first meeting in the series, reducing the number of clicks and time spent when creating subsequent agendas in the series.
The option to change team/channel is available from the menu before agenda items are added.
---
Recurring meetings – easily see which meetings are recurring
You can now easily see what meetings are recurring on the dashboards and in meeting lists.

---
Language, Date format, and Time format
The Decisions applications will now use the language, date format and time format from your Outlook settings. This allows the user to configure it themselves, as well as having the same configuration across the different apps and add-ins.
In Decisions, go to ≡ menu and select My settings to see your current configuration and the link to update it in Outlook.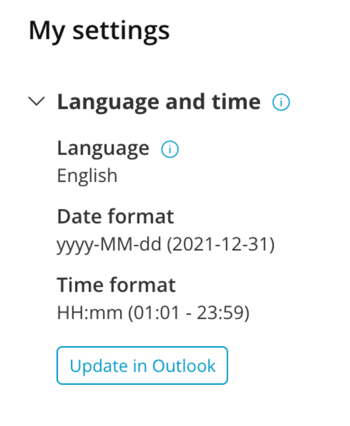 ---
Mobile App - Support for Intune MAM/BYOD
Meetings by Decisions - our mobile app for Android and iOS now supports Intune App Protection Policies & Management for deployment in bring-your-own-device (BYOD) scenarios. This allows your organization to manage our app, and apply policies via Intune, also on employee-owned devices.