---
New Meeting list look 👀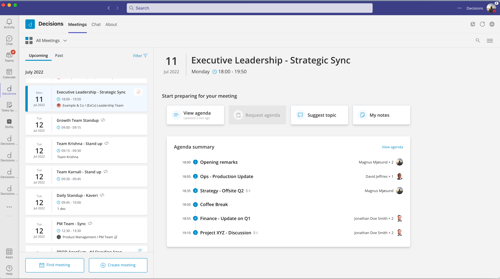 We have updated look and functionality for your Meeting list! You can now easily browse through your meetings and take actions to further prepare or help the organizer prepare. There is also an Agenda summary for published agendas, so you can quickly get an overview of the purpose of the meeting.
---
Meeting Actions (Also available before there is an agenda)
With the update Meeting list look we have introduce a set of new functionality to help you prepare, engage, and collaborate on your meetings.
Create/View Agenda

Start creating the agenda, or open the existing one
Request access (to create agenda) when you want to ask the organizer to create the agenda on their behalf

Request agenda

Send a request for an agenda to the organizer. Ensuring you and all attendees can know what the meeting is about, prepare and collaborate.

Suggest topic

Suggest a topic you'd like to discuss, or create a full agenda item to help the organizer complete their agenda

My Notes

Quickly create personal notes for any meeting and any stage of the agenda. These will be orderly organized in your personal OneNote
---
Improved agenda item menu
We made it easier to find what you are looking for