Manage Access for Guest Attendees in Teams
You can know manage access for internal and external Guests in a meeting within from Teams. Go to Settings > Manage Access, and give each Guest Attendee the "Edit" or "View" access to the agenda. Learn more.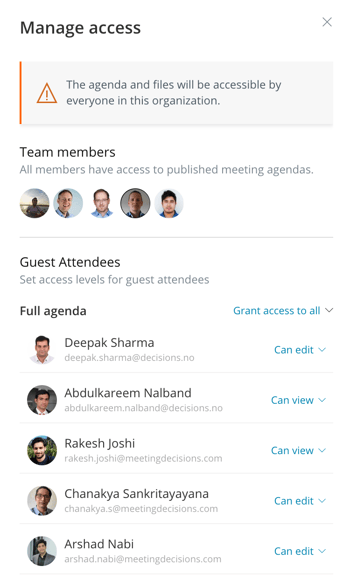 Remember option for Sharing Meeting Link with Guest Presenter
We will now remember you preference for adding the Teams Join link when inviting and notifying Guest Presenters to your meetings - so your workflow can be even easier.
Tooltip for "pinning" Decisions App
Learn how to pin the Decisions app to your sidebar for easy access.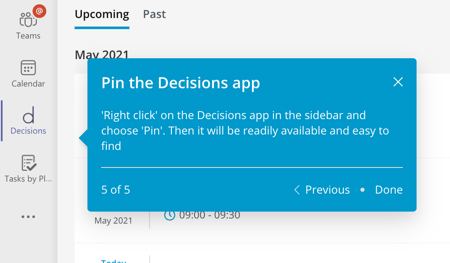 Teams team "Guest" member meeting visibility
"Guest" members in your Teams team will now see all the meetings with Agenda they are invited to in a Team/Channel. If you have added the Decisions Channel Tab, "Guest" members can now access the Agenda there too.
Admin Portal
Decisions Admin can now manage the configuration for your Organization in the Admin Portal. Ability to see which Teams/Groups are using Decisions, enable "Request Access" for new Team/Groups, managing features, and managing admins are available today. More functionality will be rolled out over the next period.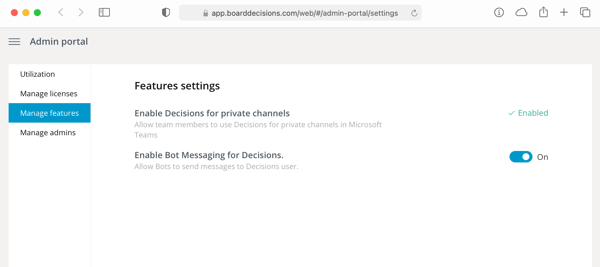 Admin Portal can be accessed here, or from the menu in Teams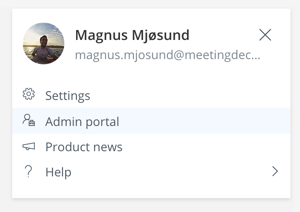 Admin Portal - Control Decisions Bot
Decisions Admins can now configure if the Decisions Bot can send messages to users.

Creating Planner Plan for Tasks - when user is not owner
User who are not Owner in a team/group, but organizer of a meeting, can now create an Agenda and set up the Planner Plan for Tasks.
Admin Portal - License overview
Decisions Admin can now see license utilization in the Admin Portal

Admin Portal - Request Access
For users that are trying to access Admin Portal, but don't have the permission, you can now request access from the Existing Decisions Admins
Mobile App - My Notes
Our mobile app - Meetings by Decisions - now supports viewing and opening My Notes for each agenda item.