---
Automatically add Decisions in Teams Side Panel
Now the Decisions side panel in virtual Teams meetings will be added automatically, and you no longer need to add it for every meeting. This is done when there is an Agenda published for that meeting (from any Decisions app), and the meeting meets the requirements for Teams meeting side panel and your Organization's tenant have the latest permissions approved.
---
Clear formatting on paste
When you copy text from anywhere in to the Agenda description field, we now make it easy to remove formatting. Just click the Clear formatting button, and we clean up the text.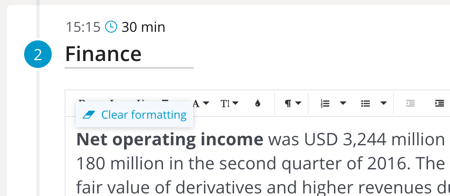 ---
Create PDF version of OneNote Minutes
You can now convert OneNote Minutes to PDF, and share with your team in a Teams Channel or by email. Click Share in the Minutes tile, and click Yes, and then you will be able to share the Minutes by email or in a Teams Channel.
---
Remove cover pages in Meeting Book
When creating a Meeting Book with attachments included as content, you can now choose to remove the cover page for all the attachments. In the dropdown menu for Attachments, select Include content (without cover pages).
---
See which Guest Presenters have been notified and when
Now you can easily see who of the Guest Presenters have been notified and at what time.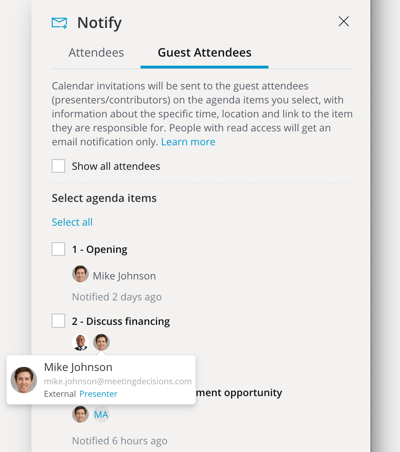 ---
Dutch keywords when creating decision and task from Minutes
You can now use the below Dutch keywords for automatically creating decisions and tasks as you write the Minutes.
Proost!
See here for the
full overview over all keywords
.
Task -> Taak
Decision -> Besluit
---
Save & Save as draft
The Save as draft option is even easier to find, now immediately available when you create the first Agenda item or when creating Agenda from a template.
Save will publish the agenda, but not notify attendees
Save as draft will only allow you and other Meeting Admins (Team Owners, Organizer, and Co-authors) access to the agenda

---
Solution for when Owner is not Member of a team/group
In certain scenarios, especially if teams/groups are created from IT department side, an Owner of a team/group is not automatically set as member of the team/group. This leads to challenges with permission access to files and functionality, even though the person might be listed in the team/group member overview. Now people in this scenario get a proper explanation and a way to resolve this scenario straight from Teams.
---
"View all" when selecting team/group
When selecting what team/group to store the Agenda in, it used to be hard to find the correct team/group if you didn't remember what to search for - now you can easily find any group you are member of by clicking View all in the bottom left part of the selection modal.
---
"Previous" in addition to "Next" in Teams Side Panel
No you can also navigate to the previous item in the Teams Side Panel Agenda view.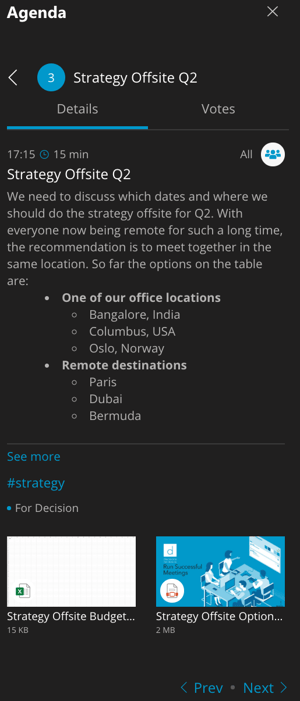 ---
Guest Presenter calendar event no longer set as private
Based on feedback from our customers we have now changed the behaviour of the Guest Presenter calendar event configuration - it no longer defaults to private.