Decisions meetings can be held with guest attendees from outside of the team, or outside of the organization altogether. Guests can be added to the entire meeting, or to specific agenda items. This guide is for adding guests to specific agenda items.
To add a guest to a portion of your meeting, add them through the presenter menu on the agenda item.

To access this menu, click on the presenter circle on the agenda item.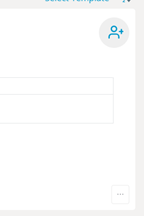 In the window that opens, add the guest attendee to the "Unassigned attendees" field and click "Invite." This will also send out an email invite to people to their portion of the meeting. (Note: if the person is already registered in the tenant, you may not see the invite button. These people will need to be invited manually).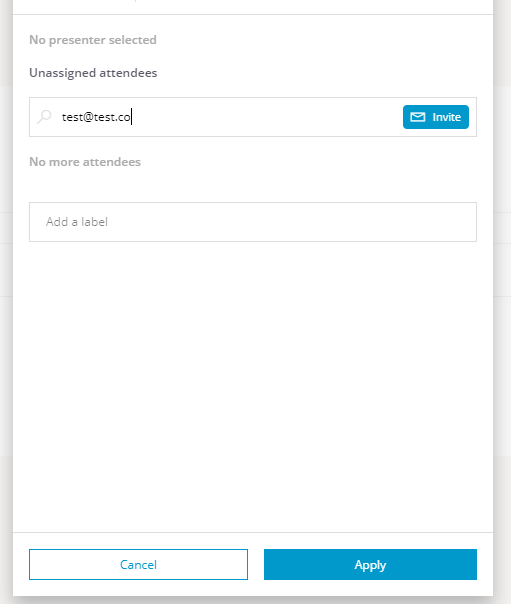 You can then set the access level for the guest attendee using the settings icon. You have three options:
Presenter: Will have edit access
Contributor: Will have edit access
Read access: Can read documents and view agenda item, but cannot edit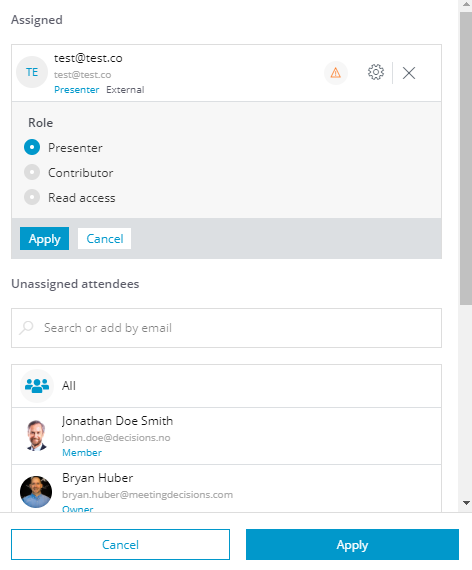 After setting the desired access level, click "Apply" on the settings window, and then "Apply" on the presenter menu.

Note: To invite users external to the Office 365 tenant to a Decisions meeting, this must be allowed by your IT admin policies. Decisions cannot supersede current Office 365 policies. Guest users will also need to be added to your directory in the Azure portal. Microsoft has a guide on how to do this on their website.